Ok boys,
The List
declares that we must photographically document the beginning of the new school year.
Hm. It appears that mom forgot to go new school clothes shopping.
Whoopsie.
William, you closed your eyes.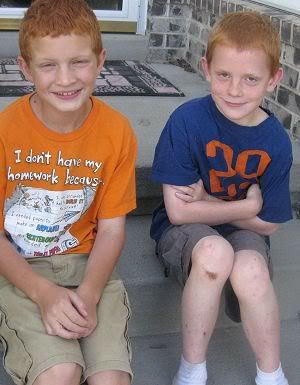 Don't look at me like that.
The List made me do it.
Real smiles please.
We'll call this composition:
" ill fitting socks and skate board injuries "
And, um. Those are NOT real smiles.
Ok, that's slightly better.
Are you humoring me?
This is fun, right?
C'mon, look EXCITED and HAPPY! I want to see teeth.
Yes, I know that it's already 8:15.
Awwwww!
Good enough.
Let the school year commence.